CALL 832-494-8205
NOW TO INQUIRE ABOUT OUR NEXT CLASS.
CLASSES FILL QUICKLY DUE TO LIMITED CLASS SIZE.
We can provide you and/or your staff hands on QuickBooks training. Many business owners feel that they must know the entire QuickBooks system to have a successful bookkeeping system. That's not true. You need to know the basics and the features that fit your business needs. We help you learn the essential features for your business saving you time and money spent by helping you avoid costly mistakes.
Fort Bend County QuickBooks Training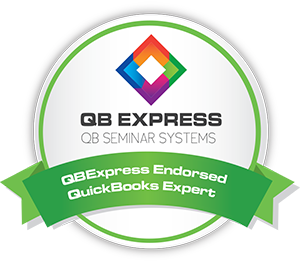 KBMJ Bookkeeping & Consulting is your premier Fort Bend TX QuickBooks Training resource and is the endorsed QBExpress QuickBooks Trainer for the region. Our knowledgeable staff understands that each business has its unique challenges; to ensure your learning objectives are met, a team member will contact you in advance to identify your specific training goals. Our QuickBooks experts will then customize the materials to meet your needs. Our seminars are small groups with the focus on you.
While QuickBooks® is user friendly, mistakes often occur in the set-up process that can result in inaccurate data and costly troubleshooting. Even if you are an advanced QuickBooks user, it may be a good idea to go through our 4 Introduction to QuickBooks Seminar to ensure the accuracy of your setup; a skillset that requires in-depth knowledge of accounting principles, workflow and the software. Select the training option that best suits your needs, or call 832-494-8205 and a team member from KBMJ Bookkeeping & Consulting will recommend a training option based on your current skillset, version of the software you are using, etc. Our exceptional QuickBooks Training classes offered in Houston, Fort Bend and Brazoria County are second to none and we ensure that every question is answered.
QuickBooks Seminars – These fast paced workshops are designed to help you get a good understanding of QuickBooks quickly. We keep our class size small and personalize the experience for every attendee. Topics include, but are not limited to:
Introduction to QuickBooks – Learn to move around in QuickBooks, correctly configure the software and chart of accounts, prepare company data for import, set-up users, master the Easy Step Overview, manage notes, to do lists, custom fields, etc. We also cover how to process accounts receivable and payable, establish vendor and checking preferences, enter bills, pay bills, memorize bills and far more. For a detailed syllabus call 832-494-8205 or email bomoniyi@kbmjbc.com. Remember, our Fort Bend TX QuickBooks ProAdvisor will identify your training needs and customize the session based on your goals.
Advanced QuickBooks Training – Learn to effectively use QuickBooks to manage Payroll items, streamline the Payroll process while saving you time and money. Create and memorize custom reports, batch reports, filter data, and much more! We also cover items, inventory and more. Tell us know what you are hoping to learn and we will make sure you do!!!
QuickBooks Online – Learn everything in the Introduction to QuickBooks section but relevant to the online edition of QuickBooks, which has a different layout than the desktop version. We can also convert your QuickBooks desktop version to online during the class.
Onsite QuickBooks Training – Schedule a customized training session to be held at your location and in your software. Our experienced trainers will explore your company's specific needs and will prepare materials accordingly. This cost-effective solution will pay off over and over again. To schedule an onsite QuickBooks training session call 832-494-8205
Pearland TX Online QuickBooks Training – When you encounter a problem you cannot resolve, save time, travel and lost productivity with one phone call to 832-494-8205. A small business specialist will track down and fix your issue while you watch and learn.
KBMJ Bookkeeping & Consulting, is the partner you NEED to effectively guide you through the complex maize of establishing an effective bookkeeping and accounting system. We will not only teach you how to ensure your data is accurate, we will show you how to use your numbers to improve overall company performance and convert your vision to reality.